TOGETHER - A new direction for a progressive Europe - Stand up for our future!


The crises and difficulties that our Union has been facing during the last years need no introduction. Unemployment, the eurozone crises, Brexit, growing populism and anti-European feelings, large refugee and migration inflows, geopolitical insecurity, extreme right-wing politics and the rise of post-factual politics, to name a few.

It would seem that half a century of European Union accomplishments are not providing the answers to people's expectations. However, these difficult challenges also present opportunities. But, in order to take advantage of these opportunities we need to better understand the forces pulling Europe towards disintegration.

This is why on the 24th of March, on a day of significant historic importance, we want to come closer to you, so that together we can set up the roadmap to the European Union we all want.

REGISTRTION IS CLOSED

Our launch event on 19 October 2016 was a great success- find out more here.The event was webstreamed and ended with the adoption of the 'Together Declaration'. The last Together event took on the challenges of the digital world 'Together for young people, social solidarity and equality in the digital age' and you can read more about our group's position on the Digital Agenda here.
#EuropeTogether - Shaping The Future of Europe - Rome 24 March 2017
This March we will be celebrating the 60th anniversary of the Treaty of Rome. Let's use this chance to rebuild our hopes for a better Europe.

We want to hear your ideas, we need your critical opinions and we are ready to listen to your hopes for the future, because we know a EU designed by the people for its people is the best chance we have for the future.

After our Together events in Brussels and Prague, now it's time for Rome to be the host for our #EuropeTogether convention, on The Future of Europe.

REGISTRTION IS CLOSED
The DEBATE on the future of Europe is now!

Through this platform, you can shape the future of Europe TOGETHER with us, the European progressive political family. Here you can debate your ideas with us and other citizens.

Join us HERE and make your voice heard!
Follow us online and on social media for updates on the event and to find out who will be joining us and how can you make your voice heard!
PROGRAMME - ROME 24 MARCH 2017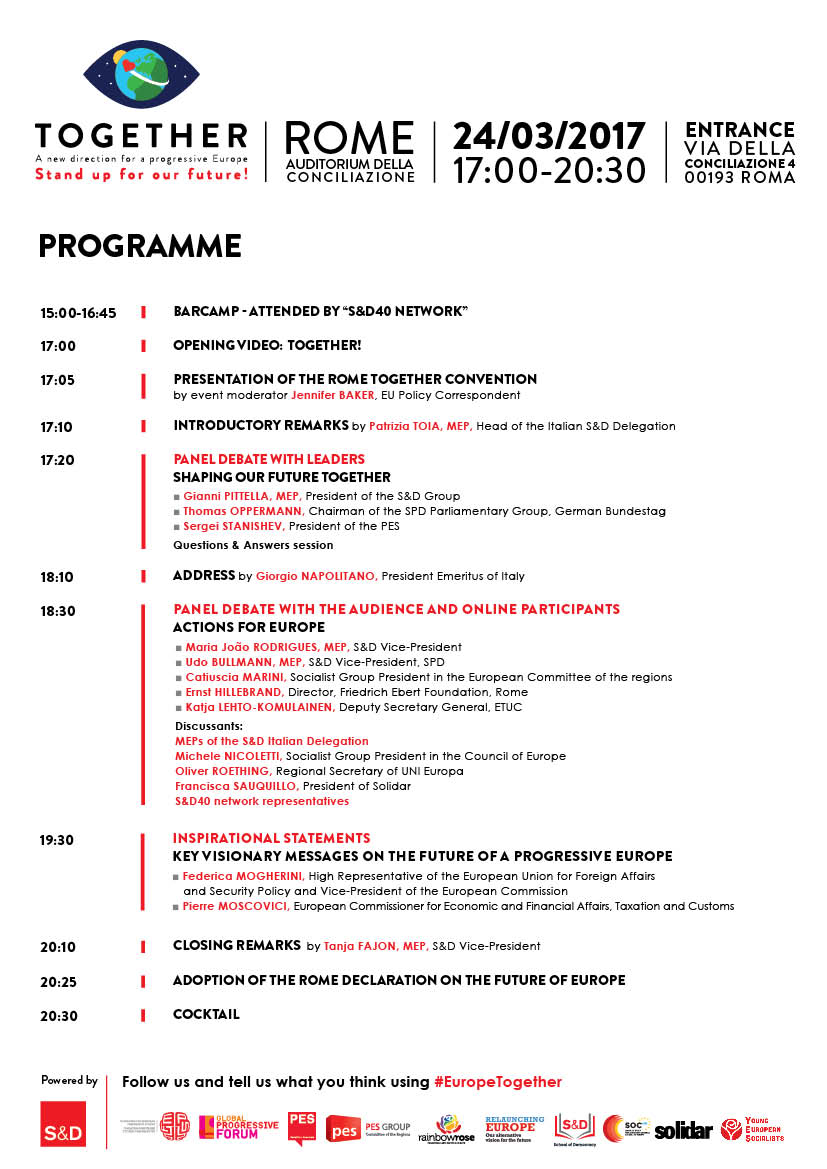 ROME DECLARATION ON THE FUTURE OF EUROPE - Shaping our Future TOGETHER
DECLARATION ON THE FUTURE OF EUROPE - Shaping our Future TOGETHER
60 years after the Rome Treaties, the European Union needs to assert itself as a powerful democratic entity delivering peace, freedom, security, sustainable development and prosperity for all its citizens. For us, this is a key moment to shape a new positive future for our Union, to work for unity, cohesion and openness, against divisions and new walls, fighting against neoliberalism, nationalism and populism. Together, we stand for a clear choice:
A European Union for shared and sustainable prosperity!
We must ensure that everyone has decent living and working conditions, proper social protection and opportunities to improve their lives. Europe's labour and social standards need to be updated and enhanced to match the challenges of the 21st century. We need a new growth model with a strong European Pillar of Social Rights, poverty reduction programmes and a true European Youth Plan capable of providing every young person with jobs, skills, digital literacy, equal treatment and more opportunities for developing new enterprises and creative ideas. Young Europeans must also be empowered in the decision making process at all levels.
We need to stimulate the economy with a powerful European investment strategy focused on sustainable development, new technologies, better jobs and stronger economic and social convergence upward. This requires a Community budget with proper own resources to ensure the right financing of European Union priorities as well as a Eurozone budget. We also need tough measures to tackle tax evasion and avoidance as well as to fight social dumping.
A European Union for strong democracy!
We reaffirm our strong commitment to basic European values. The respect for human rights, freedom, democracy, the rule of law are the fundamental principles on which our Union is based and we want an European Union that can uphold these principles and promote them beyond its borders. We stand for an open and tolerant Europe, based on equality between all people regardless of race, gender, religious beliefs or sexual orientation. Full equality between women and men is a fundamental principle of European society.
If we want a European Union capable of tackling the challenges of the 21st century, it needs to have real capacity to deliver common good and it must function in an open and transparent way. Democracy and sovereignty at European level should enrich democracy and sovereignty at national level. This requires education on Europe, sharing our common cultural identity, ensuring pluralism of the media, informing citizens about their rights. European citizens must be empowered to make their democratic choices, including on European priorities and on the President of the European Commission.
A European Union for security and protection of fundamental rights!
We need to find better, durable solutions on migration and asylum. We need more solidarity and better integration. This means building up a truly European Asylum System where human rights are respected and responsibilities are shared among all member states. Refugees must find protection and all necessary support for their good integration in society. At the same time, we need to secure Europe's external border and support peace and development in neighbouring countries.
Europe must also become more self-sufficient in terms of external and internal security. Europe needs to act more coherently on defence and security, with greater autonomy in defence capabilities and more integration in areas such as common management of operations, procurement and cybersecurity. We also need to develop greater cooperation between national police forces and have better information sharing to fight terrorism more effectively.
However, a feeling of security depends also on general living conditions, respect of citizens' rights and an environment of tolerance instead of radicalisation. We must do more to strengthen Europeans' socio-economic security.
A European Union for international cooperation!
At a time when some global players are undermining the multilateral principles of the international system and nationalistic tendencies are gaining strength, Europe must act as a champion of international cooperation. We need to continue standing up for peace, human rights, the Sustainable Development Goals and the fight against climate change. Our external policies and trade policy must be based on these values and goals, and focus even more on labour standards, social fairness, tax justice and environmental protection. European action is critical to reshape globalisation.
The European Union can thrive in the decades ahead, as long as we Europeans stay together and work together for better European solutions to cope with all our common challenges. We do not need a Europe a la carte. We the people are stronger than the forces of division or fear. Member states can only be strong if Europe is strong. Rome must be the moment to reaffirm why we stand united and to show common resolve in shaping a stronger future together. We need to return to the path of social justice and shared prosperity. This is Europe's progressive choice!
PRAGUE DIGITAL DECLARATION - TOGETHER FOR YOUNG PEOPLE, SOCIAL SOLIDARITY AND EQUALITY IN THE DIGITAL AGE
Prague Digital Declaration
Together for young people, social solidarity and equality in the digital age


We are building a European Digital Union for growth, a better future, new quality jobs and new forms of solidarity. A sustainable
digital economy should:

• Support and inspire people to develop digital businesses, e-services and e-commerce that provide 'digital solutions' for people and
society in Europe and globally.
• Create quality jobs for all, with a special emphasis on young people and women, and invest in quality jobs in digital public services.
• Invest and develop platforms in digital skills and literacy, creativity, innovation and a good working environment.
• Support young entrepreneurs to help them deal with risk, get access to funding and scale-up European SMEs.
• Develop digital infrastructure and promote universal access to an open, borderless internet.
• Ensure fair rules on remuneration for all in the digital economy: young people, journalists, creators and innovators, so that they can
enjoy a fair living income.
• Develop new inclusive technologies for a data-driven economy, while promoting privacy by design to ensure that open data flows
and big-data applications will respect personal privacy.
• Open up access to data including access to research and scientific outcomes.

The 'Fourth Industrial Revolution' will create digital winners and digital losers. In the European digital labour market, we should:

• Reduce the impact of the digital economy on social-protection systems and prevent inequalities.
• Develop and organise new ways to guarantee workers' rights and workers' representation, decent working conditions, fair
competition and social protection for all.
• Ensure universal access to training and retraining in digital skills, in order to create the conditions for effective and equal
participation in the digital single market for all citizens – young and old, rural and urban, well-off and poor. Support school curricula
and teacher training in STEM subjects (science, technology, engineering and mathematics), digital skills and coding.
• Clarify the employment status of platform workers and guarantee that this does not create new forms of social dumping. Organise
the portability of workers' rights as they move around in the European digital labour market.
• Create platforms for collective bargaining in the digital sector and extend collective agreements to individuals engaged in new forms of work.
• Allow citizens to have the choice to 'switch off' – support those who do not wish to embrace the digital revolution.
• Create fair competition, prevent tax dumping and distribute wealth by reviewing EU tax policy so that international companies contribute
their fair share of national taxes and charges in countries where they operate and finance Europe's economic and social model.

To fight for digital equality for all and guarantee the protection of consumers' rights on the digital market, we should:

• Provide affordable and accessible connectivity for all at a local and regional level and across the whole of the EU, and fund it with
a EU digital cohesion policy.
• Promote digital citizenship including e-democracy and digital civic education at local, national and European level.
• Incentivise all citizens, including those people living with disabilities, unemployed and migrant populations, to take advantage
of the digital society.
• More online e-government services should be made available to all.
• Ensure that all users (irrespective of age, gender, gender identity, sexual orientation, disability, country or economic status)
are protected equally online, including protection against online harassment.
• Ensure that social media providers and users respect fundamental values including the rule of law.
• Guarantee the portability of legally acquired content when downloading abroad and roam-like-at-home when travelling.
• Support the development of technologies (3D printing, robotics and artificial intelligence) that can benefit people.
• Ensure that digital technology helps all citizens communicate and connect – so that all citizens are heard and listened to.

Digital policies must bring Europe TOGETHER!
BRUSSELS TOGETHER DECLARATION - A new direction for a progressive Europe
TOGETHER - A new direction for a progressive Europe - Stand up for our future!

Europe is at a crossroads. Brexit is just the latest in a long string of crises that have dramatically weakened the European project. The survival of the European Union is now in danger. Either we accept the decline of Europe or we change this Europe to make it greater.

To make the Union stronger, what we need is a new direction for Europe. Europe desperately needs to be reformed with new ideas and the
progressive forces have the duty to take the lead in this battle for change. This requires a fresh insight and political creativity as we cannot limit ourselves to the answers of the past while Europe is changing.

To do this we need to work Together, to harness all possible energies amongst our citizens.

We are launching a new journey for Europe. A journey where everyone's voice can help shape the future of European politics. A journey towards a fairer, sustainable and more equal Europe. A global Europe, capable of facing and tackling global challenges.

Together is more than a political promise: it means involving our citizens in building a progressive Europe. Over the next 18 months, we will be holding events across the EU encouraging citizens to contribute to this new direction for Europe.

"None is an island, entire in itself". Only Together we can shake up the status quo and stand up for a progressive Europe. The Journey has started. Join us!