Ambassadors
BECOME A TOGETHER AMBASSADOR
JOIN THE PROGRESSIVE FAMILY AND SHARE WITH US YOUR VISION FOR A BETTER EUROPE
Engage to shape our common future TOGETHER
For each Together event, we select the most engaged citizens, taking into account their involvement and the quality of their comments on our TOGETHER platform
Here you can debate your ideas and make your VOICE HEARD!
Our Ambassadors can participate in debates with other citizens, politicians, civil society organisations and experts
Ambassadors are the pillars of our Together events
YOU can help in shaping our common vision for Europe
Register on the TOGETHER platform to learn more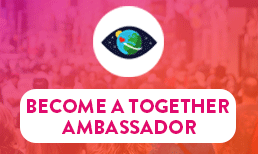 WATCH OUR AMBASSADORS IN ACTION!
Our Together Ambassador Maxim Vandekerckhove
We can all be Ambassadors of change! This was Maxim's message at our latest #EuropeTogether event in Bruges on 22 February 2018, and we fully back him.
Together we are working for a better Union, a fairer Europe and stronger democracy.

Watch our

Ambassadors

in Antwerp