S&Ds: Launching an EU platform for cities against sexist advertisement

Media and advertising have a strong impact on our awareness and attitudes. Many studies have shown that sexism and negative stereotypes of women prevail in today's advertisements and contribute to justifying and perpetuating inequalities between genders. Social democrats have long been combatting sexist advertising, which goes against our principles of gender equality. This initiative to fight against "sexism in Advertisement" took form on the occasion of the International Women's Day 2018, S&D launched as the "EU-Platform of S&D led Cities against Sexist Advertisement" during a conference on 6th March 2018, during the S&D group meeting.

The aim of this platform is to fight, not only all types of discrimination against women, but sexism and stereotypes in advertisement by awarding those cities and municipalities who have implemented legislation to ban this sexist and stereotyped advertisement from public spaces or who have taken the decision to do so and who are ready to follow and apply the Charter. This Charter was drafted by S&D group in close cooperation with the PES group in the Committee of Regions. Following the very successful event in the S&D group meeting on the 6th of March against sexism in advertising, we are now receiving a number of requests from local entities such as mayors, mayors' candidates or even local elected persons asking to join the platform. If you want to join this campaign and to lead action against sexism in advertisement, please join us filling the next page.

Sign the charter

Join the debate on women's rights on our platform. Be the voice of your generation and tell us what you think should be improved in Europe in order to achieve true equality.

Equality between women and men is a fundamental right recognised in the Treaty of Rome of 1957 and in the Charter of Fundamental Rights.

Although the EU has adopted many texts to promote equal opportunities, ensure fair treatment for men and women, and combat all forms of discrimination, nowhere near enough progress has been made and women still face many daily inequalities.

The S&D Group wants an inclusive and equal Europe for everyone. There is still a long way to go.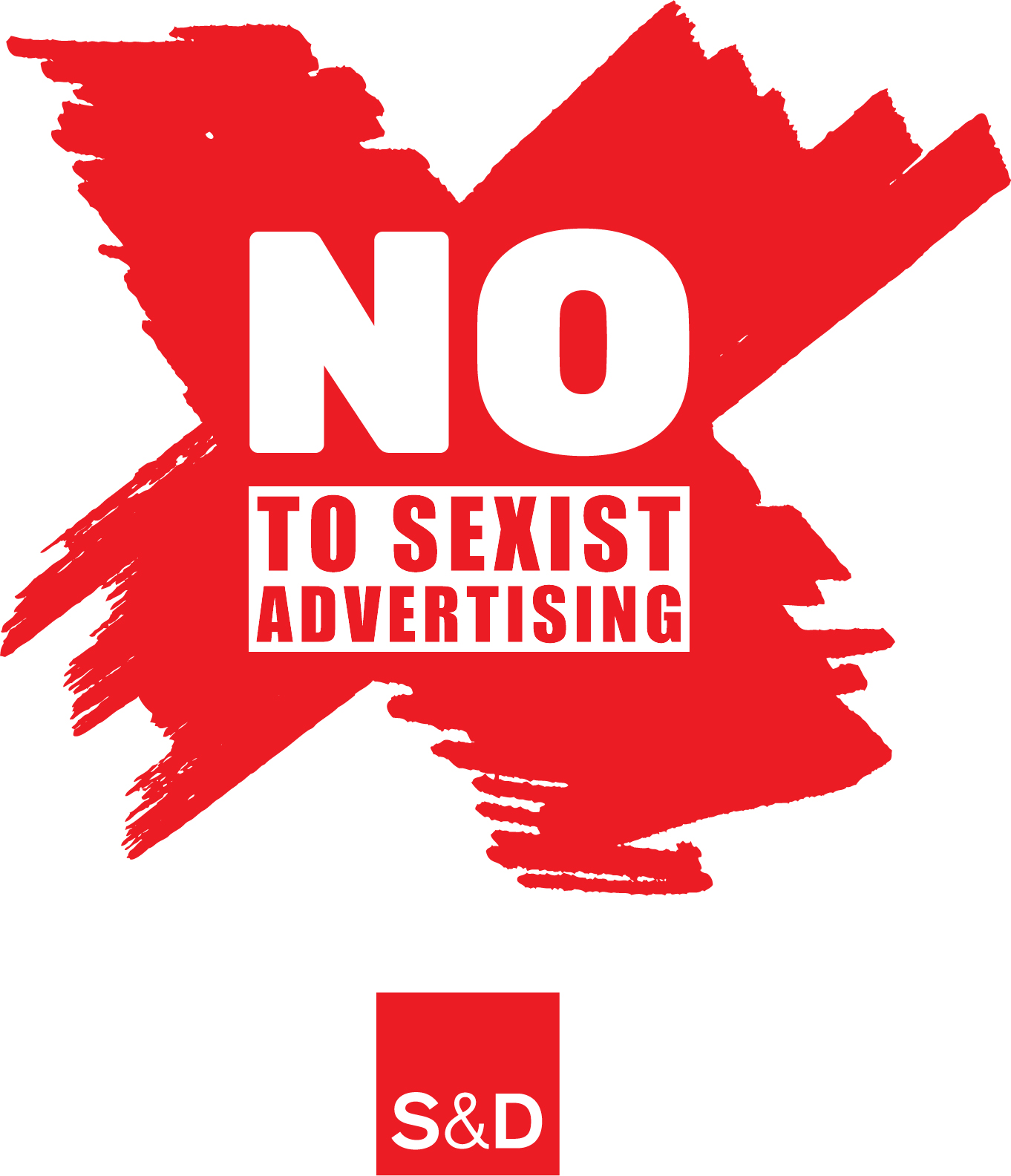 Guidelines for the accession to the EU Platform of Cities against Sexist Advertisement
Many studies have shown that sexism and stereotypical views of women are prevalent in contemporary advertising. As media and advertisement have a strong impact on our attitudes and opinions, we can assume that these thus help reinforcing and reproducing gender stereotypes and inequalities.
As Social Democrats, we have already been fighting sexist advertising for a long time because it contradicts the principle of gender equality, which is one of the core principles of our political family.
Therefore the Socialists and Democrats in the European Parliament will launch an "EU Platform: Social Democratic Cities Against Sexist Advertising" on the occasion of the International Women's Day 2018. With this initiative, we want to honor in a first step social democratic leaders who have taken a firm stand against sexist advertisement at the local level and encourage in a second step mayors and local decision-makers of all other parties to do so in the near future.

How to become a part of it?

After the official launch at the beginning of March, the Platform will open its doors to cities and towns all over the European Union.
Did your city already take concrete measures against sexist advertisement? Or is it planning to introduce measures in the near future? Are you supporting the aims of the "Charta of commitment against sexist advertising" and would be ready to sign it? Then contact us. Signing the Charter, and receiving our label honouring your city or town being active in this fight, is the starting point for your membership in the Platform.
The "Charter of commitment against sexist advertising" can be found here
The Platform will be living from your engagement. Promote it, let other cities and towns know about it and let it grow. Share your best practices, learn from the experience of others and develop common strategies to make public spaces sexism free spaces.

For any further information, please contact: Mr. Tommi Lindfors: s-d.femm@ep.europa.eu
Violence against women
In Europe, seven women are killed every day and one woman in three has been physically and/or sexually assaulted at least once in her lifetime. Women are also the vast majority of victims of trafficking, particularly for sexual exploitation and prostitution.

While the 2011 Anti-Trafficking Directive sets out specific actions to tackle this form of violence, the European Commission is still ignoring the European Parliament's call for comprehensive legislation to combat violence against women. In addition, only 14 EU countries have ratified the Istanbul Convention on combating violence against women.


Violence against women is one of the main obstacles to real equality between women and men. The S&Ds continue to urge the Commission to come up with strategic proposals to tackle violence against women before the next European elections and call on the EU and all member states to sign and ratify the Istanbul Convention.
Equal pay and pension gap
60% of all university graduates are women. Yet women in the EU earn 16% less than men on average, so women are effectively working two months a year for no pay. And in the longer term, lower salaries result in lower pensions, which can lead to an increased risk of poverty. The pension gap between women and men is around 39%.

The directive setting out the principle of equal pay and equal treatment at work for men and women was adopted in 1975 and has been regularly updated, but unless there are radical changes to the present situation, equal pay will not become a reality before 2084.

The S&Ds want action now for a new, updated directive on equal pay which can effectively cut the gender pay gap by 2% a year, with clear sanctions for EU countries that do not apply it.
Poverty
The EU's goal for 2020 is a 75% employment rate for all, but the current employment rate for women is only 63% – a 12% gap. According to the OECD (the Organisation for Economic Co-operation and Development), the number of women taking up informal and unpaid jobs is rising. And worryingly, austerity measures have affected women more harshly than men. Budget cuts have had the biggest impact on the public sector – where many women work – about 80% of the 'working poor' are women and more than a third of older women in the European Union receive no form of pension. The feminisation of poverty is increasing: women are more at risk of falling into poverty than men.
Low-paid and insecure jobs must be replaced by sustainable jobs. We continue to work towards this goal, calling for an end to counter-productive austerity measures and for strong gender-equality objectives to be included in the EU 2020 strategy and in the European Semester economic cycle.
Maternity, paternity and parental leave
Since the beginning of the economic crisis, the birth rate in Europe has fallen. This is partly due to the fact that women and men are not always allowed to have adequate maternity, paternity and parental leave.

Current maternity leave legislation allows for 14 weeks, with various different systems of payment across Europe. In 2010 the S&Ds led on introducing a proposal for increasing this to 20 weeks of maternity leave and 2 weeks paternity leave on full pay. This was adopted by the European Parliament, but a minority of member states in the Council blocked the text and the Commission announced it would withdraw the proposal in July 2015. A roadmap on work-life balance has recently been published.
We will insist that the Council and Commission take their responsibilities seriously and ask them to consider the long-term demographic situation in the EU. We want the roadmap to be ambitious and include plans for a revision of the Maternity Leave Directive to offer better protection for pregnant workers and minimum of two weeks of fully paid paternity leave for all fathers, and a revision of the Parental Leave Directive to allow family duties to be shared equally between parents. Children are the future of the EU. That is also why the S&Ds are calling for real improvements in accessible, affordable, high-quality childcare to reach the Barcelona targets, so that both women and men are able to balance work and family life.
My body, my rights
Sexual and reproductive health and rights are a key priority for us. This includes sex education, avoiding unwanted pregnancies, access to safe abortions, treatment of sexually transmitted diseases and tackling sexual violence.

Currently four EU countries still criminalise abortion, while pre- and post-natal health services have been hit hard by the crisis. Today, many women in Europe do not have access to contraception and safe abortions, restricting their right to choose on sexual and reproductive issues.
In 2015, our MEPs signed the "All of us" declaration for abortion rights.

The right for women to make decisions about their own bodies is a fundamental right that should be included in the Charter of Fundamental Rights. The S&Ds also want a strong and coherent section on sexual and reproductive health and rights built into the EU's public health strategy.
Women in decision-making
Women still make up a very low proportion of elected representatives in national parliaments: between 43% and 9% across the EU. In the European Parliament only 36% of MEPs are female at the moment, a very small increase since the 2009 elections. Our Group has almost achieved an equal gender balance however, with 44% women MEPs and 45% women in the Group's leadership team, but more needs to be done to encourage equality in political life.

Women on company boards are even scarcer. On average just 20% of company board members are women – whereas in Norway they have achieved 40% through introducing legal quotas.

Quotas have become necessary to achieve gender equality. The S&Ds have asked the Commission to draft legislation requiring a 40% quota for women on company boards by 2020 and we also call on the Council to stop blocking the legislation and help get women into top jobs.
Social inclusion
In 1995, the international community adopted the Beijing Platform for Action, identifying 12 critical areas for fostering gender equality. In 2015, on the 20th anniversary of the Beijing Platform, women continue to suffer from violence, poverty, discrimination and social exclusion more than men and they are not able to fully exercise their sexual and reproductive rights.

Equality cannot be achieved unless EU countries put in place effective policies to promote gender equality: the S&Ds insist that all countries must fully apply the commitments they adopted in Beijing.

The UN Millennium Development Goals (MDGs) demanded equal access for girls and boys at all levels of education by 2015. This has mostly been achieved in primary education, but not at higher levels, with girls still facing greater barriers than boys. Empowering girls and women all over the world through education is essential – that is why the S&Ds urge the EU to support all developing countries to achieve these goals.
Women refugees
In 2015, about 1 million people crossed the Mediterranean.

Women and children account for around 35% of refugees.

In January 2016, women accounted for 55%.

We need to highlight the exceptionally vulnerable situation of women asylum seekers and refugees in the European Union. They have fled persecution in their home countries only to undertake a perilous journey in order to reach a place of safety. On arrival at reception centres these already vulnerable women, who may be victims of sexual violence, trafficking or other violent crimes, face additional barriers which further increases their already vulnerable positions. Our Group calls for gender sensitive asylum procedures through a number of measures to ensure that women's needs are met throughout the asylum process, such as: gender-specific training for staff including comprehensive training on sexual violence, trafficking and Female Genital Mutilation (FGM); specific sleeping and sanitation facilities; the right to request female interviewers and interpreters; access to gender-sensitive health services including prenatal and postnatal care; providing childcare during screening and asylum interviews and the rights of women to lodge a claim for asylum independent of their spouse as a key to women empowerment. We also call for an end of detention for children and pregnant women seeking asylum.

Gender-based violence, such as rape, sexual violence, FGM or forced marriage should be a valid reason for seeking asylum in the EU. As far as the integration of refugees, our Group calls for facilitation to the labour market; access to language classes and education; access to childcare and family reunification and recognition of qualifications obtained abroad.
Further information

Rapporteur Mary Honeyball (S&D MEP, UK)
UNCHR press release: Report warns refugee women on the move in Europe are at risk of sexual and gender based violence