S&D Times - This week's highlights and what's coming up.
Quote of the week
Our family has to open the door to the movement against austerity, the Democrats who don't want to follow the "Orbánisation" of the centre-right European People's Party (EPP), the movements that advocate for the human and civil rights in Eastern Europe. And also, the door is open for the environmentalists. We have to build a great alliance to win the next elections
Gianni Pittella

Past activities
Check out a short overview of the past Plenary week in Strasbourg!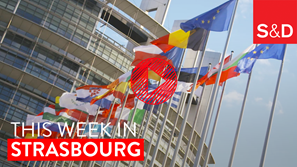 Activities
Looking forward to a busy November, with the IX edition of the Latin American Forum, workshops on Europe's digital future and two interesting Together events. Don't miss out!
Upcoming activities
Step it up for Gender Equality - our Youth for Gender Equality Forum will be reaching its third edition next year. And, as before, we are looking for 25 young, motivated Europeans to come and join us for debates and workshops on a topic which is now more important than ever - achieving gender equality.
The event will take place in the European Parliament in Brussels from 30th January - 1st February 2018.
The 2018 Forum is looking for 25 young motivated EU nationals individuals, aged 18 to 25. The ideal candidate will be motivated, proactive and engaged in gender equality/women's rights activism, with good communication skills, and will share the core values of the Socialists and Democrats. A good knowledge of English is a must as there will be no interpretation during the forum. We will, of course, consider gender balance in the selection process.
You can learn more about applying here, and see details on our work on gender equality here.
On November 8th our Group will be holding its IX Latin American Forum on the EU-CELAC Summit: Opportunities for a new progressive and sustainable agenda. Speakers will include our President, Gianni Pittella, MEPs Ramón Jaúregui, Carlos Zorrinho and Enrique Guerrero Salom, as well as other guests, among which Julia Emma Villatoro Tario, Ambassador of El Salvador in Brussels, Martha Delgado Peralta, General Director of the Pensar Foundation, or Jose Alberto Garibaldi, Director General of Energeia, Mexican NGO focusing on Clean Energy and Climate Change.
Registrations are open here and interpretation will be provided in EN/ES/PT.
Our common digital future is of great importance to our Group. This is why on November 8th we are inviting everyone interested to join us for the Digital Europe Working Group on Robotics.
Our MEPs Josef Weidenholzer, Madi Delvaux, Martina Werner and Miapetra Kumpula-Natri will be joined by our President Gianni Pittella, EU Commissioner Mariya Gabriel and other speakers in a three-panel debate on employment, research and innovation and access to data privacy.
The event will also be webstreamed on our site and interpretation will be provided in EN/FR/DE/ES/IT.
Registrations are open here. 
Also, this November we are glad to organise two #EuropeTogether events.  After a "family reunion" here in Brussels, on October 18 - 19, full of enthusiasm and energy, our team is now going to Gothenburg, in Sweden, on November 16th, for an event on Social Justice and Growth.
Sustainable cities is next on the agenda, as on November 23rd we will be going to Antwerp to debate on the topic. Follow us on Facebook for updates on speakers and more events.
President's missions
Our Group President Gianni Pittella will be joined by Vice President Elena Valenciano in a visit to Argentina, Uruguay and Chile from 29 October to 3 November. "During this legislature, I have visited the Southern and Eastern neighbour countries, candidate countries as Turkey and almost the whole Balkans, Africa. All these missions were developed in the framework of the political priorities of the S&D group. Latin America is also a priority. Particularly in these times in which the European Union stands up for multilateral governance, fair and free trade, and needs allies to tackle global challenges. Latin America is our ally" President Pittella has said before his trip.
This mission will be a re-introduction of Latin America in the centre of the political focus of the S&D foreign policy.